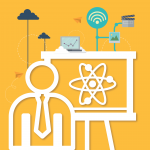 -4 min read- 
There are many different ways to do training and even more business needs that training can be applied to. If your operating in the 21st century, most likely you've already heard of eLearning and LMS software. But, "We have an exclusive, hands-on, instructor-led training system," you say…
That's great! It's helpful to have face-to-face training to reinforce learning. Classroom-based training is still the best and most immediate way to approach certain kinds of material, especially anything that requires hands-on practice.
Improving Instructor-Led Training with an LMS
That being said, isn't it a pain to keep track of all those dates, locations, attendance, records and completion certifications? And, on top of that, how great would it be to reinforce all those classes with occasional, quick eLearning courses?
Combining real-time instructor-led training (hereby referenced as ILT) with the record keeping power of an LMS will make your training strategies even more effective!
Incorporating ExxTend Learning into your ILT means you don't have to manage registration, attendance, and whatever else your classroom needs with the dreaded spreadsheet! And after you've closed the class, simply assign a follow-up course so your learners can review the materials and make sure all that knowledge sticks. Whether it be a one-on-one, workshop, or small group class, you can do it all with the ExxTend Learning Classroom Manager!
Using the Classroom Manager in ExxTend Learning
So how does the Classroom Manager handle ILT, exactly? Pretty fabulously! The whole process is pain-free, intuitive, and most importantly, simple. You can use it to organize, schedule, credit, and report on all your ITL sessions. And that's not all! Send out automatic invitation and reminder emails to attendees, produce a roster for Instructors, and handle conflict resolution between instructors, locations, users, and equipment.
At it's most basic level, Classroom Manager allows ExxTend Learning Admins to create Classes that Users can register for. These Register-type courses are the core of Classroom Manager.
There are 6 basic steps to create a Class…
Create a Register type course
Add a class to the course
Add a meeting to the class
Optionally, add a location, instructor, and equipment to the meeting
Add optional information such as a scheduler and documents
Add students to the class (optional for Open Enrollment)
Creating a Class
You can add as many classes to one course as you would like to give your learners more options to time and location. For example, there may be two similar classes that have different meeting times. Or the two classes have different instructors. Taking either class will give the user credit for the course.
As soon as you save a Course of type Register check out the Content tab (1). The Add Class (2) link in the Action Menu appears that lets you go directly to the class definition page.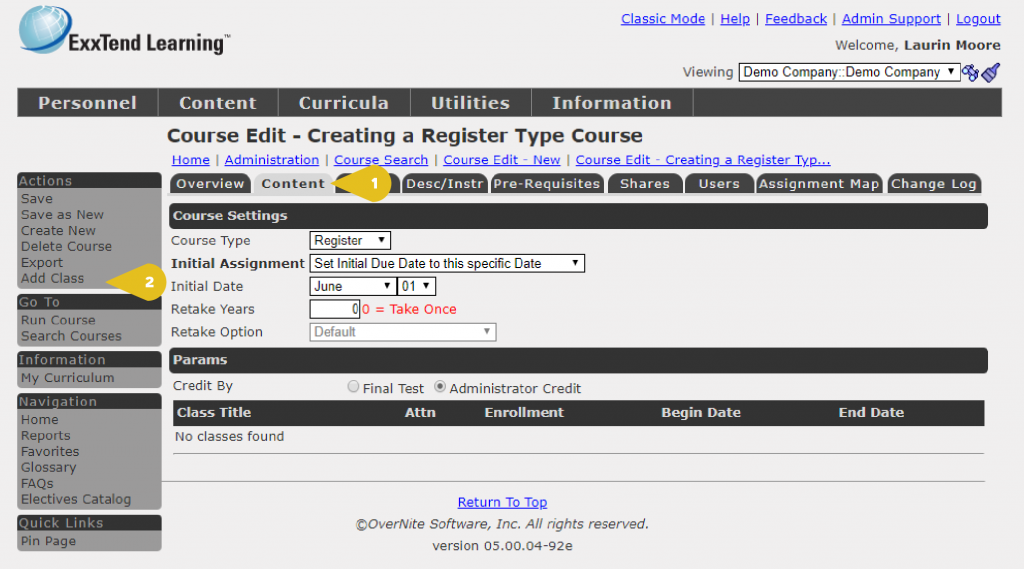 Now that you've clicked Add Class you can edit all the details of the Class (1) and manage the User Registration (2). Once you're satisfied with all the details, click Save in the Action Menu (3).
Note: When you create a new class, the Class Title is automatically entered with the name of the course and an incrementing number appended to the title. You can override this title if you choose to.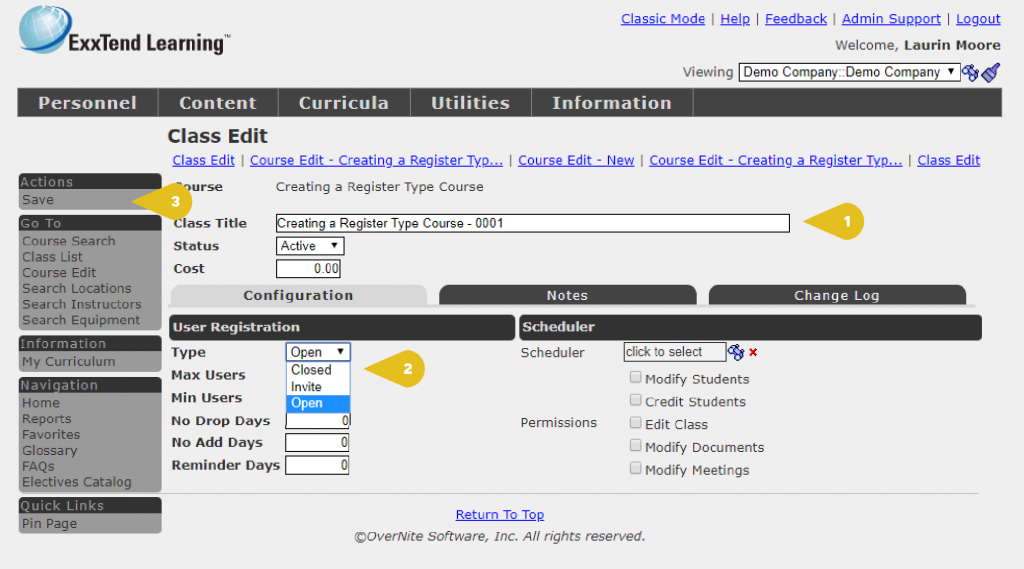 After you've saved you can see that the system tells you that no students have been enrolled, you've created no meetings, and no scheduler has been designated (1). Click on Add Meeting in the Action Menu (2). Fill out all the details in the Class Meeting pop-up such as location, date, begin and end time, then click Save.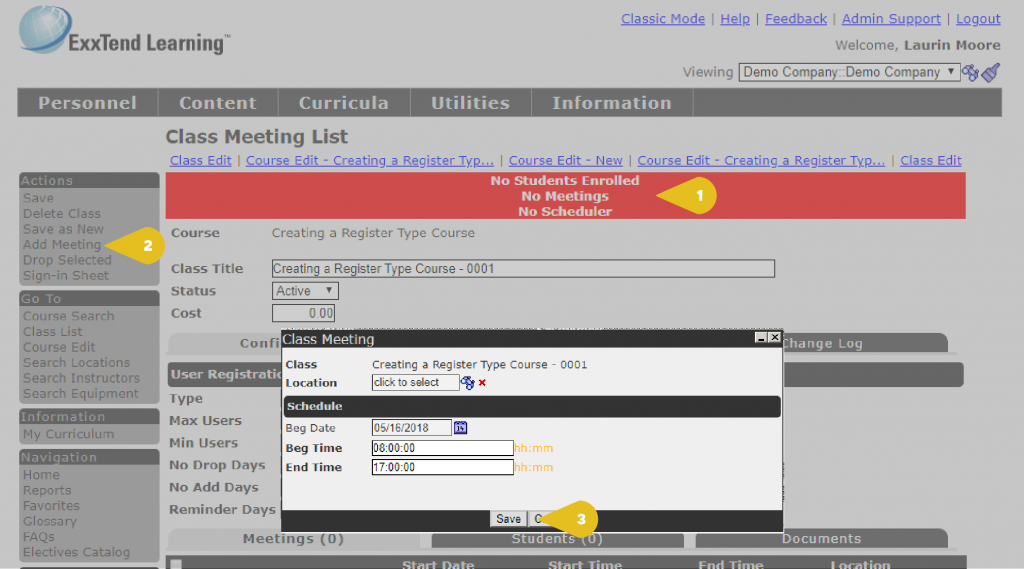 Once you've saved the Meeting you'll see it in the Meetings tab (1). You can also select a scheduler in the Class edit window (2). Finally, once you're satisfied with all the Class details, click Save in the Action Menu.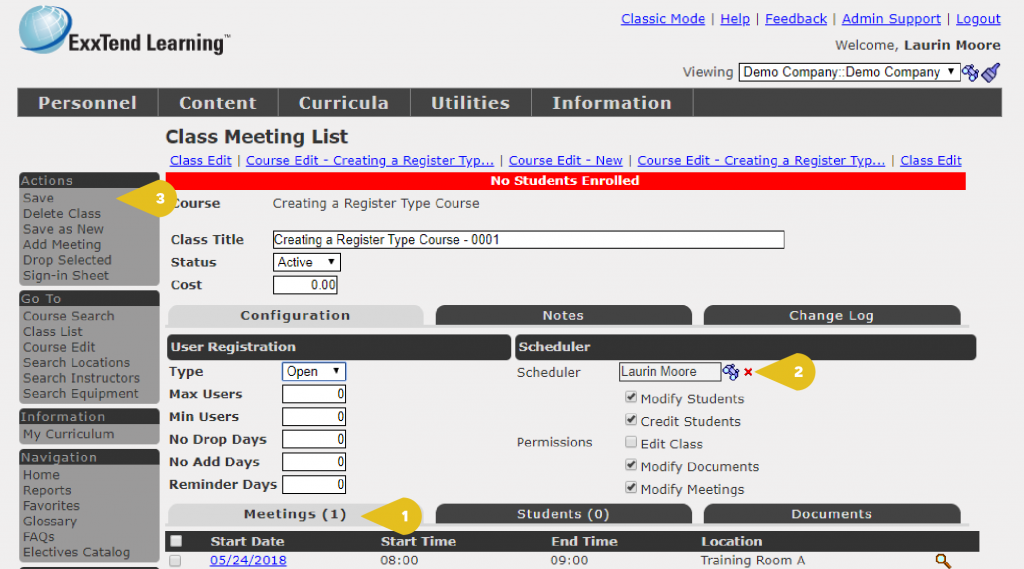 Now you have your class ready to assign to Users! Once you've assigned the class to the Users you want to attend they'll see it on their To Do list where they can register for one of the Meeting choices.
Conclusion
In today's post, we had a look at Instructor-led training and ExxTend Learning's support for it. The Classroom Manager is a  powerful enough to cover all the situations you would come across during classroom learning scenarios, and simple enough that you can get going with ILT in mere minutes.
If you're interested in incorporating ExxTend Learning into your training efforts, give us a shout! We'll be happy to show you and your team how you can bring your training to the next level.