Workplace Learning Made Simple
On-Demand Learning from OSI is a training solution that gives you access to over 700 training courses covering a wide range of industry topics. With access anytime and anywhere, this means that your employees can learn at their own pace while being engaged with interactive e-learning.
Our On-Demand Learning is more than just training content. You will get access to our ExxTend LearningTM Learning Management System (LMS) with features such as training assignment and tracking, reporting capabilities, classroom management, and a course-building tool that allows you to build your own learning content.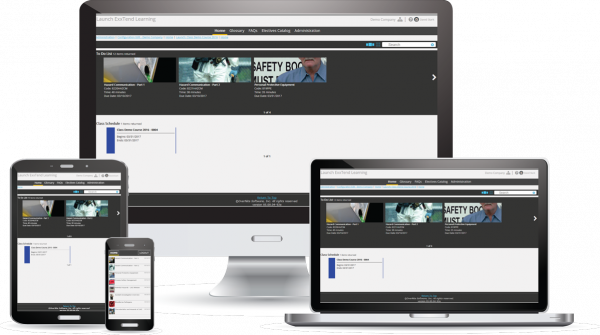 Deliver Training When Needed
Today's workforce requires a solution that provides the training they need and meets their schedule requirements and learning styles. This can be a challenge when selecting the right training content for your workforce. Also, consider how your training program may change over time. That's why On-Demand Learning from OSI includes access to an LMS that will grow as your training program grows and access to over 700 training courses providing the specific training your employees need.
Our comprehensive e-learning solution provides unlimited access to a library of on-demand training and simplifies assigning, recording, and maintaining training compliance records.
Here is what you get:
Learning Management System (LMS) with the ability to:

Assign training
Generate reports
Create and import custom content

Over 700 ready-to-deliver courses
U.S.-based customer service
On-Demand Training Content Libraries Included:

Flexibility and Control of Training
Deliver content in four different learning modes – Test, Learn, Study, and Adaptive. This versatility provides organizations with options for how their employees learn and demonstrate knowledge.
Organize and deliver the curriculum (content) to users in individual or manageable units such as equivalencies, tracks, jobs, groups, or roles.
Evaluate training compliance, execute organization initiatives, and identify learning gaps using the powerful reporting tool. Reports can be exported to a browser, PDF, Microsoft® Excel®, or email.
Do More with Your Training Program
Allows courses to be used in a blended learning atmosphere and enables Administrators to quickly and conveniently credit class attendees with just a few clicks.
Provides organizations with the ability to create their own custom courses using the built-in course authoring tool.
Deliver content from third-party providers in formats such as SCORM, AICC, HTML, and more.
Solutions Made Simple

On-Demand Learning provides an easy-to-use and affordable solution
for your day-to-day training needs.