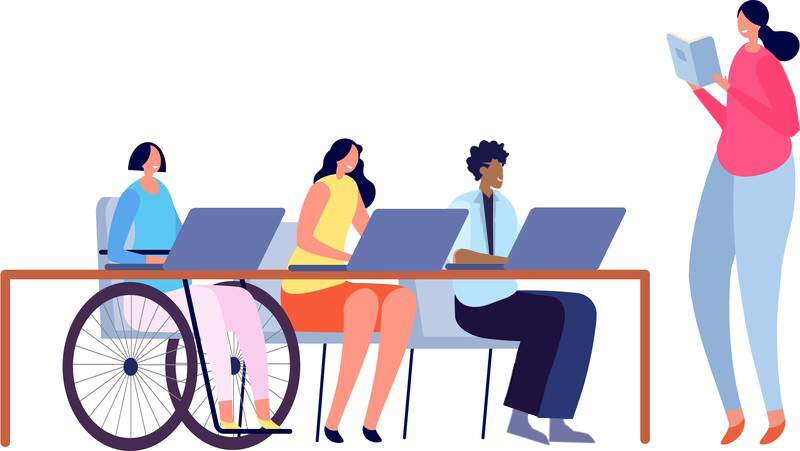 Does Your Training Content Reflect DEI Values?
Reflecting your company's DEI values in training content is an important step toward realizing the long-term benefits of a successful DEI initiative. To understand that importance, you must know the answers to a few questions.
What is DEI?
Why is the reflection of DEI values in training content important?
How can you know if your training content reflects your company's DEI values?
What is DEI?
DEI is the acronym for diversity, equity, and inclusion. It is the abbreviation used when discussing "a conceptual framework that promotes the fair treatment and full participation of all people, especially in the workplace, including populations who have historically been underrepresented or subject to discrimination because of their background, identity, disability, etc." Dictionary.com
DEI connotes a relationship, environment, community, or workplace where everyone is accepted and able to thrive regardless of differences but, more importantly, because of differences.
Why is the reflection of DEI values in training content important?
Incorporating DEI ideals into the instructional design and delivery of training content reinforces the concept that each employee is seen and heard. Feeling seen and heard fosters an employee's sense of well-being and satisfaction. This sense of satisfaction, in turn, encourages positive work performance, loyalty, and staff retention.
Another long-term benefit of supporting DEI values in your employees' training content is that it encourages open-mindedness to diversity inside and outside the workplace. Each individual is different, and our differences add value. Delivering training that represents a team whose differences are embraced strengthens the cohesiveness of teams within your organization.
How can you know if your training content reflects your company's DEI values?
Knowing what elements of DEI to include in your training program can seem daunting. The DEI values for any given company or organization might vary depending on multiple factors; however, any DEI-supportive training program should ultimately place the highest value on accepting and celebrating individualism.
To measure the effectiveness of company DEI efforts in your training program at a foundational level, ask your team! In your team's opinion, does training content support the company's DEI values?
"Finding the gaps in your DEI efforts is a challenge regardless of your company's size. As the saying goes, you don't know what you don't know. This is where employee surveys can make a huge difference, uncovering substantial data that can help build more effective DEI programs, as well as increase employee experience outcomes." TechCrunch, November 2021
A recent report from Gallup encourages asking these questions to determine where a company stands regarding its stance on diversity, equity, and inclusion. Apply these questions with your training program in mind.
What is your commitment? (What DEI values will your company incorporate into training content?)
What changes will you make? (What must be done to ensure DEI ideals are represented in training content?)
How will you track progress? (How can including DEI values in training content be tracked and measured?)
How will you sustain progress? (What systems can be implemented to maintain the DEI-supportive momentum?)
What does your team need to consider to move forward in building a long-term DEI-supportive training strategy?
Contact OSI to discuss how we can develop training for your company that supports your specific diversity, equity, and inclusion efforts.
Tags In