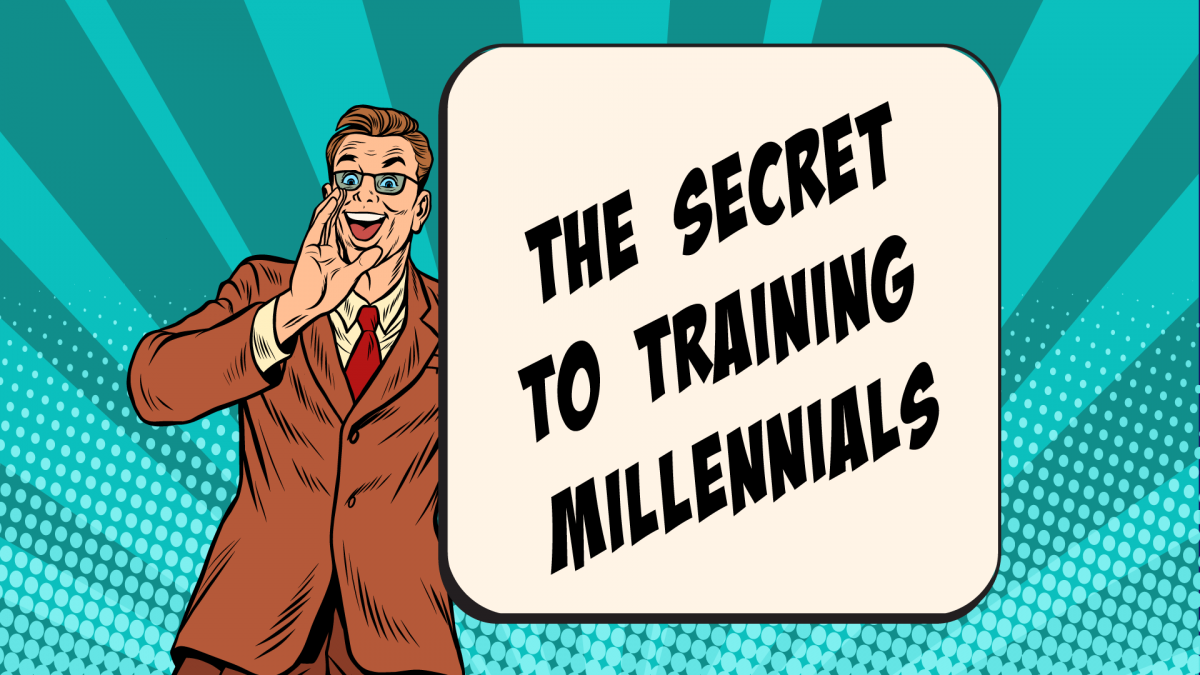 The Secret to Training Millennials
While training in general presents speed bumps on occasion, training millennials begs for a unique path. Why? Simply because there has never been a generation so entrenched in technology from day one. Not only does this keen awareness of technology make the millennial generation unique, it often confounds previous generations in comprehending how to communicate effectively. The challenge in communicating with millennials is no different from communicating with anyone else. We must harbor the desire to speak in such a way that the listener will understand what we are saying.
"The goal of effective communication is to send a message with the intention of informing, inspiring, or questioning, with the message fully understood by the recipient." Bizfluent.com
Sure, there are challenges in communicating with millennials, but before looking to where they might come up short, we need to acknowledge the "log in our eye" first. We must work together toward eliminating the stereotypes and embracing the differences between the millennial generation and those before. Millennials are not wrong in their approach to life and work; they are naturally different. Where millennials are often accustomed to feelings of exclusion, approaching their differences in the workplace with acceptance will instill a sense of belonging to your millennial-aged team. Taking into account generational differences as a positive element to your business will leverage challenges and offer long-term benefits.
Beyond eliminating harmful stereotypes, onboarding a Learning Management System (LMS) provider will garner a substantial return on your investment. A qualified provider will have already considered the challenges of multi-generational training, taking out the guesswork, and addressing the nuances for you. Yes, please!
How can you use online training and an LMS to meet the challenges?
Incorporating an LMS into your training platform will help break down generational barriers by offering a portal aimed at:
Curating customized course content
An LMS with a built-in authoring tool and opportunities for continued training and advancement will provide a progressive solution for your millennial workforce.
Delivering visually dynamic graphics
Delivering visually compelling graphics and videos will enable you to dial into the millennial's high technological expectations.
Crafting an engaging software platform
Providing an engaging eLearning training software system will boost your employee and development platform, motivating your millennial team to achieve growth.
Enlisting companies that specialize in creating customized courses with dynamic graphics and top-notch technology will be a valuable tool for offering training for your millennial team to thrive.
Having cut their teeth on an iPad, we could say that millennials are hardwired to excel in a workplace that provides both progressive and intentional technology. By natural default, they will not be content to hear, "Well, that's how we've always done it."
An LMS will provide a training software platform that will be cost-effective for your budget. Likewise, it will boost your business by effectively engaging and empowering your millennial workforce.
To know what millennials need in the workplace and what your training program should look like, ask them! You're sure to find them grateful, and possibly surprised, you asked and happy to share their thoughts.