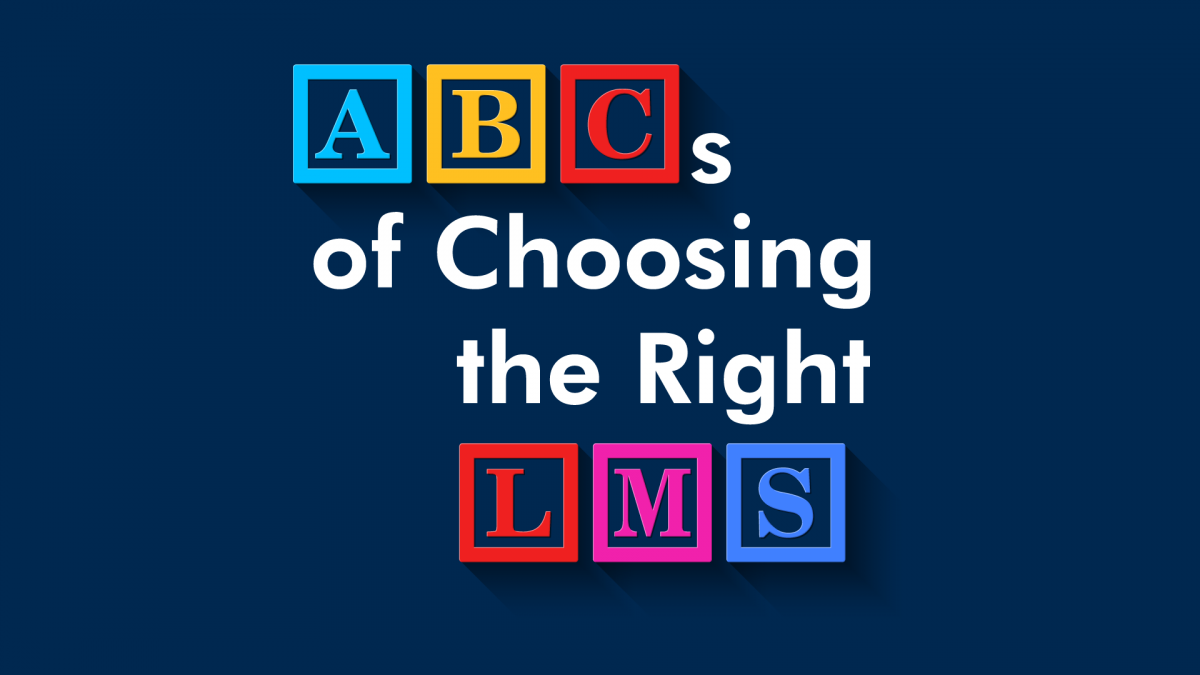 The ABCs of Choosing the Right LMS
A Google search for a Learning Management System (LMS) that fits your company's needs will furnish you with a mind-blowing number of options to consider. Choosing the right LMS for your company's training program might seem overwhelming, but we can help take some of the anxiety and guesswork out of the decision for you.
Too often, training is not considered a priority and left as a back-burner budget item. It's challenging to find the right balance between ongoing employee training and the need for productivity in daily functions. The truth is that a quality LMS can enhance the productivity of your employee's daily functions, encourage retention, and promote overall engagement, all of which make a favorable impact on your bottom line.
Perhaps you've already made the decision to utilize an LMS to administer your training program, or maybe you're still on the fence and trying to determine if an LMS works best for you. Either way, there are many factors to consider as you dive into choosing the right LMS. Here are three questions to be considered that rise to the top of the list.
A. What are your business needs and requirements?
It is essential to consider what your budget will allow when choosing an LMS. Know the upfront and long-term costs, and be sure to ask about any potential hidden costs. Will there be hosting fees? What will future upgrades cost? It's important to note that a quality LMS will be worth the price tag.
As your training program develops, you'll want a dedicated and available support system. A healthy relationship with your LMS provider is crucial to the success of your training program. It's a good idea to consider whether you'll need support during holidays or after business hours. Think through your needs for friendly, helpful customer service. Seek out reviews, and ask LMS vendors for references before you take the plunge.
What is your timeline? How well both sides work together is critical to an efficient launch. Make sure to ask LMS vendors how prepared and dedicated they are to help you reach milestones and deadlines.
B. Who is your audience?
Your audience is your employees. Take a look at your employee demographics regarding age, education and skill levels, language preferences, etc. Having an LMS that crosses generational and skillset gaps could be beneficial for your budget as well as enhance employee engagement across the board.
Something else to note as you study your audience is the different levels of training that might be needed based on specific roles and hierarchy within the company.
C. What features and benefits does your training program need?
As you evaluate your options, it's essential to understand what features and benefits are available and which ones your learning system demands. Do you need global access or mobile support? Will you want to incorporate the use of videos and interactive questions? Do you need ongoing customization and updates? These are a few of the vital questions you need to ask as you choose the LMS that's right for you.
Another factor to consider is whether you will need to integrate your current communication platforms with your LMS. Integrating your existing systems with your new LMS will help you get the most value and efficiency out of your training program.
The LMS you choose should be carefully contemplated and confidently chosen. Doing your homework will take the anxiety and guesswork out of your decision, and you will end up with a program that fits your needs.